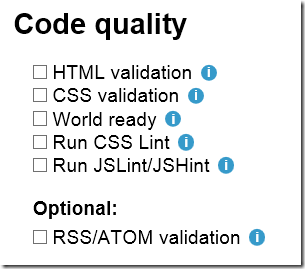 So you just built a website and are about to make it public to the world. You go through a few checks to make sure that everything works as expected. Perhaps run HTML validation and other similar services.
But are you sure you remembered to implement all the best practices? Does it look good on mobile devices, in Windows 8 snapped view and what about basic accessibility?
Enter Web Developer Checklist
We've tried to come up with the complete list of tasks and checks that every web developer should go through when developing any kind of website. The Web Developer Checklist is structured in a way that makes it really easy to follow the progress as well as getting help to perform all the checks.
Give it a try and let me know what you think.