In the last couple of days I've done some screencasts on how to use BlogEngine.NET. I know there are many applications available that can record my screen and audio, but I didn't really want to go look for any of them. Many of them come with a price tag and then I'd have to learn how to use them afterwards.
I remembered the time when Windows Server 2003 was in beta and I was running it as my main operating system. It came with a wonderful application called Windows Media Encoder. So instead of looking for newer and maybe cooler screencast recorders I just downloaded the old Windows Media Encoder which is free. It is outdated by now, but it's easy to start using it and it produces fairly good quality videos.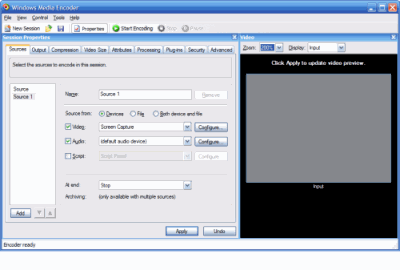 The only problem is that it cannot edit a video after it finished recording it. So I gave Windows Movie Maker a go. The result was not good, not good at all. When I imported the video, did nothing and saved it again, the quality dropped immensely and the size of the file tripled. I still find it odd.
From this experience I've learned that Windows Media Encoder is good and Windows Movie Maker is not. I'm planning to do a lot more videos so it might be about time I started looking for alternate recording tools and editors.