Some of my readers have been asking me how I've added the Windows Live Alerts functionality to this blog. I simply love this feature and I hope that it will spread to some of the blogs I read daily. It allows me to get notified about blog updates in a non-intrusive way through Messenger without having to subscribe to the RSS feeds. I already have to many RSS subscriptions.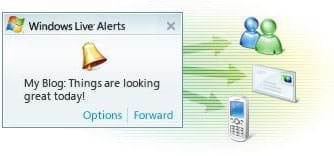 All you have to do is to sign up, provide the link to your RSS feed and add this button to your blog. Don't worry, it's free.
Here is a link to the sign-up page at Windows Live Alerts.
You can add this blog to your Windows Live Alerts by clicking here or on the button on the right side of the webpage. Here's a screen shot from the alert i recieved through Messenger when I posted this.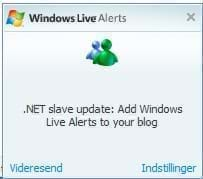 Whenever you recieve an alert and decides to read the post, just click the alert and you will be taken directly to the blog.