Earlier this week we shipped Visual Studio 2013 Update 2 CTP 2. Gotta love that name. The previous CTP 1 release didn't contain any web specific features, but CTP 2 is packed with web goodness. Here are some of the highlights:
Improvements to the LESS editor

Nested media queries
Named parameters
Selector interpolation
Go to definition for variables, mixins and @import
Many additional tweaks and fixes

A brand new SCSS editor

With all the bells and whistles you'd expect

A brand new JSON editor

Basic editor features. More to come in the final release

Knockout.js Intellisense updates

Nested view model support
KO comments
Fixes and tweaks

New URL picker for HTML, CSS, LESS and SCSS
Browser Link updates

HTTPS support
Static HTML source mapping
SPA support for mapping data
Auto-update mapping data

General updates, tweaks and fixes
Even though the release is "just" a CTP, all these features are very solid and of high quality. I can only recommend giving CTP 2 a try if you haven't already. There is so much web development awesomeness in it.
Web Essentials doesn't work with CTP 2
That's right, Web Essentials 1.9 and earlier doesn't work with CTP 2 due to API changes in Visual Studio. If you install Web Essentials on CTP 2 you will be greeted with this nice error message: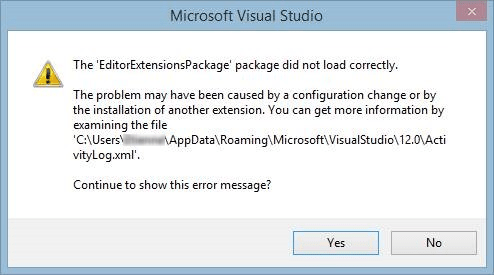 The 'EditorExtensionsPackage' package did not load correctly. This makes little sense to most people, since it's not very clear what EditorExtensionsPackage is. Well, it's the original name of Web Essentials that never got changed as you can see here in the source code.
Download a compatible version
The open source community  around Web Essentials is working on a new release that is compatible with CTP 2 and beyond. It has not yet been released. When it's released, it will only work on Update 2 CTP 2 and later. Because of the API changes, we haven't been able to make it backwards compatible, unfortunately.
So, if you want to give CTP 2 a spin, then please try out the new nightly builds of Web Essentials. As an added benefit, the latest build also contains Intellisense improvements to the JavaScript editor as well as support for JsDoc comments.
Download Visual Studio Update 2 CTP 2
Download Web Essentials 2013 for CTP 2
I have yet to see any issues with the latest build of Web Essentials. Actually, several existing bugs have been fixed in that build.